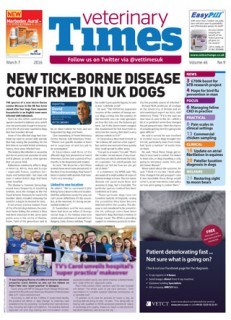 A meeting has been organised to discuss the implications of a new, tick-borne disease confirmed in the UK.
It comes after a Veterinary Times front page story revealing four dogs from separate households in Harlow, Essex, were infected with babesiosis (VT46.09).
The article by reporter David Woodmansey stated: "None of the affected dogs had travelled, nor been in contact with animals that had, raising the possibility, for the first time in recorded British veterinary history, they were infected here."
UK at risk?
Ian Wright, head of the European Scientific Counsel Companion Animal Parasites, will be presenting on "Babesia and other tick-borne disease – what is the risk to the UK?", at the meeting sponsored by Bayer Animal Health.
The meeting is open to all veterinary practice staff and is being held on 17 March at Wood Farm, Moreton Road, Ongar, Essex CM5 0EY. Doors open at 7pm for an 8pm start.
If you would like to attend, email paula.slyusarenko@bayer.com