Veterinary staff have returned from a charity mission to a remote Caribbean island where one of their "incredible" experiences was using a gravestone as an operating table.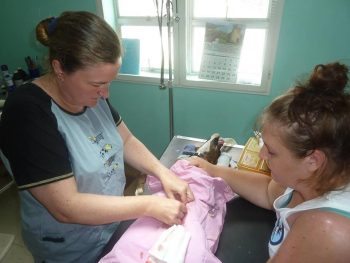 Vet Claire Nicholls and VN Jennie Ward, from Southfields Vets in Sale, Greater Manchester, spent two weeks volunteering with the Worldwide Veterinary Service (WVS) at Carriacou Animal Hospital – a charity clinic on the island of Carriacou.
Neutering campaign
The pair were helping with a WVS project to run a neutering campaign, mobile health clinic and education programme.
After castrating stray dogs in a pub bar, rescuing a dog due to be euthanised, performing parasite control and surviving a tropical storm, they were called to help stitch up goats savagely attacked by dogs in a graveyard.
Real eye-opener
Claire said: "It was an incredible experience. I'll never forget the day we spent treating goats in a graveyard. They had been attacked by dogs and several of them had large, gaping wounds. We had to use one of the gravestones as an operating table.
"We saw first-hand the incredible work carried out by the charity and it was a real eye-opener when you haven't got equipment, machines or facilities we take for granted working in a British veterinary practice. There are no x-ray machines, so it is much harder diagnostically.
"We took a suitcase full of supplies donated by drug manufacturers and suppliers, including Ceva Animal Health and Eickemeyer."
Jennie added: "There were no facilities, so we had to set up a makeshift surgery in a pub, where people could bring their pets, and we carried out a castration on a bar table.
"The Carriacou team made us very welcome. It was a great learning experience and completely different to what we are used to."
Fund-raising
Southfields Vets has donated £10,000 to WVS following a fund-raising drive over the past two years.
They have donated all fees from neutering and castration procedures carried out at their surgery in Northenden Road to the organisation, which aims to improve the treatment and welfare of animals across the world, and supports around 600 charities in more than 100 countries.
Claire has booked another trip with the WVS as in September she will canoe down the Zambezi.