A campaign has been launched to stimulate conversation between vets and the owners of senior dogs to identify common health problems before they become an issue.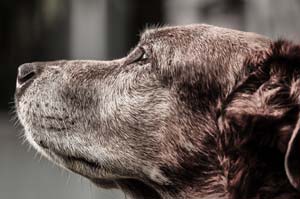 The "Make time for old age" campaign has been generated by Avacta Animal Health. Company spokesman Johanna Gourlay said she believed some owners just accepted changes in mobility, demeanour and cognitive function as part of the ageing process, without realising there were, in fact, many ways they could do more to help.
Osteoarthritis
She said: "It's estimated around 8 out of 10 dogs above the age of 8 suffer with osteoarthritis and that the number of dogs showing signs of cognitive dysfunction also dramatically increases with age, from around 28% at 11 to 12 years to more than two-thirds being affected at 15 to 16 years of age.
"Many of the changes associated with ageing occur very gradually, potentially going unnoticed until much further down the line. For example, it may only be when the dog stops climbing stairs altogether, or is barking during the night, that the owner decides to seek help."
Campaign
She added: "Our 'Make time for old age' campaign aims to stimulate conversation between the vet and owner of every older dog brought in for a consultation, to find out how its behaviour may have changed in recent weeks, months or sometimes years, and talk through what can be done to help.
"As part of the solution, and to encourage discussion about this important area, we have specifically designed a client leaflet that incorporates a checklist owners can use to identify older age issues in their dog."