Vet Hannah Ridgwell has won a Samsung 48-inch curved screen television after taking part in a prize draw on Virbac's stand at the London Vet Show.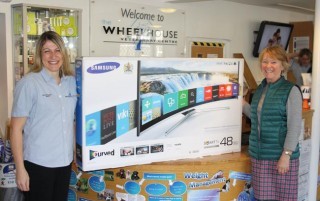 Hannah, a small animal vet at The Wheelhouse Veterinary Centre in Buckinghamshire, was presented with her prize by Virbac territory manager Josien Woolmer.
'Stunned'
Hannah said: "I've never won anything like this in my life so was stunned when I heard the news and was so glad I'd stopped to enter the draw on Virbac's stand. We may need to build an extension to fit the TV into our living room, but fit it in we will."
Josien Woolmer added: "It was great to meet so many customers – past, present and future – at the London Vet Show and to receive such a positive response to our recent product introductions and our use of new technologies to enhance communication and compliance.
"I think we are all slightly envious of Hannah winning this great-looking TV. We hope she and her family get many years of happy viewing out of it."