The mystery of a missing rodent was solved when its owners found it trapped by the leg behind their kitchen oven after a two-day search.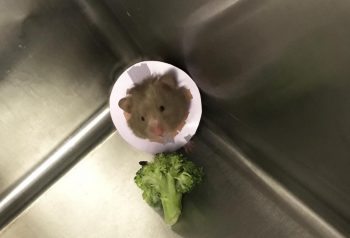 Four-month-old Syrian hamster Lavender had suffered severe damage to a hindleg, prompting her owners to make an out-of-hours call to Cherrydown Vets in Basildon.
Bright idea
A spokesman for the practice said: "Receiving an emergency OOH telephone call for a hamster is quite a rarity. When Lavender arrived, it was clear her injury was very serious.
"Lavender's owners had to make the choice of either taking the high risk of a general anaesthetic to amputate her fractured leg, or making the sad decision of putting her out of her pain and euthanising her. They agreed to consent to the surgical procedure, and Lavender was operated on the following day."
Vet Amy Andrews carried out an intricate amputation, while VN Bridie Currie had the bright idea of fashioning a DIY micro-size buster collar, to aid the hamster's healing.
Unusual operation
According to the practice, the operation's unusual nature meant the theatre was full of vets and VNs.
"Just giving a general anaesthetic to such a small pet can be very risky, but Lavender woke up quickly and seemed to be stable," said the spokesman. "She went from strength to strength over the next couple of days, learning to manage with three legs.
"They don't make a buster collar for a hamster and we needed to stop her getting to the wound site, so Bridie made a tiny lavender-coloured one.
"We really do hope Lavender has a long happy life ahead of her as a three-legged furry."