Charity Mission Rabies has benefitted from the expertise of a vet who travelled to India to help with an immunisation project.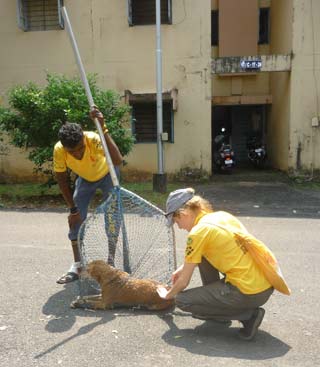 Jo Iddon from Heath Veterinary Clinic in Burgess Hill, West Sussex raised more than £750 for her trip via a pub quiz fund-raiser in September.
Vaccination drive
The project she was involved with is a monthly mass vaccination drive that has successfully vaccinated more than 60,000 dogs so far.
Miss Iddon vaccinated stray dogs against the disease and marked them with a red spot to show they had been immunised.
India is the world's hot spot for rabies, with an estimated 30,000 deaths a year occurring due to the disease.
Mission Rabies has various projects in place to combat the issue, including teaching vets the skills to run neutering and vaccine campaigns and distributing educational materials to schools so children learn how to prevent being bitten.
Proud
Sarah Solomon, owner of Heath Veterinary Clinic, said: "We are so proud of Jo for going to India to use her expertise for such a great cause."
Miss Iddon said: "I was really looking forward to visiting India to help this great charity and offering my skills as a veterinary surgeon.
"I'm very appreciative of all the support I've received from my work, friends, family and people in the local community. The trip was very interesting and I'm glad I've gone a little way towards helping the rabies problem in India."