Two experts from the University of Edinburgh Royal (Dick) School of Veterinary Studies have won awards for their contributions to the profession.
Scientific award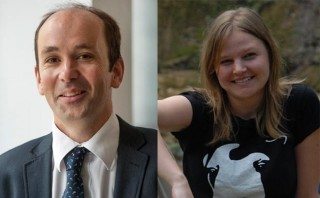 Richard Mellanby received the 2016 Petplan Scientific Achievement Award for his contributions to clinical research.
Dr Mellanby is head of small animal medicine at the University of Edinburgh's Hospital for Small Animals and a Wellcome Trust intermediate clinical fellow.
His research focuses on understanding factors involved in the initiation and resolution of inflammation in animals.
Vet of the Year
Meanwhile, Heather Bacon won the Ceva Chris Laurence Vet of the Year Award in recognition of her commitment to the continued improvement of animal welfare.
Miss Bacon leads education programmes to improve the care of animals around the world. She is veterinary welfare education and outreach manager at the Jeanne Marchig International Centre for Animal Welfare Education.
Head of the Royal (Dick) School of Veterinary Studies, David Argyle, said: "These awards are fiercely competitive, so I am delighted to see two exceptional members of staff recognised for their achievements."