A study has established gun dog breeds, such as retrievers, are straining their locomotor systems by carrying shot game back to their owners.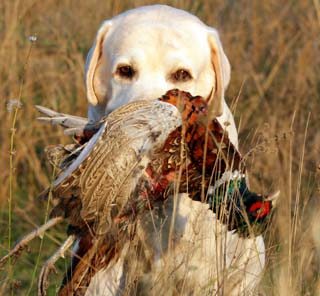 The motion study, by scientists from the University of Veterinary Medicine Vienna (Vetmeduni), showed the dogs tilted forwards like a see-saw when they carried the prey in their mouths.
This can make already existing joint and tendon damage worse – particularly in the forelimbs.
Regular checks
The scientists recommend adjusted weights should be used for training puppies and adult dogs, to reduce the impact, and that joints, tendons and muscles should be checked regularly by specialists.
Authors of the study, published in the journal BMC Veterinary Research, analysed effects on the locomotor system in a special movement lab with 10 trained dogs.
Barbara Bockstahler, from the Clinical Unit of Small Animal Surgery at the Vetmeduni Vienna, said an adult gun dog can carry loads of several kilos in its mouth when retrieving shot prey, such as rabbits and hares.
She said: "Even if gun dogs have the required attributes, the additional weight is physically burdensome for them."