Vets have joined Sheffield, Rotherham and Doncaster councils in a campaign to persuade owners not to smoke near their pets.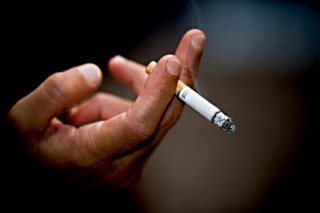 The campaign urges smokers to keep their homes smoke-free to help keep pets fit and well.
According to research by the University of Glasgow, pets are at even greater risk from owners smoking around them than humans because they spend more time in the home and are usually closer to carpets, where cancer-causing particles can linger.
All pets at risk
The research showed animals exposed to second hand smoke went on to develop a host of health problems, including cancer, cell damage and weight gain.
Cats are particularly at risk from second hand smoke, potentially due to extensive self-grooming, but all pets can be affected.
Doncaster's cabinet member for public health and well-being councillor Pat Knight said: "Many people are already aware of the risks of second hand smoke when it comes to babies and young children, while pet owners are often surprised animals can be harmed too."
Veterinary support
Vet Phil Tricklebank of Hallam Veterinary Centre in Sheffield is one of the vets supporting the campaign.
He said: "I have seen many cases of chronic bronchitis in dogs and feline asthma in cats, which can often be aggravated by exposure to second hand smoke. I would urge all animal lovers not to smoke around their pets."
As part of a wider campaign to combat the harmful effects of second hand smoke, the South Yorkshire public is being urged to sign a pledge to make their homes and cars smoke-free at www.breathe2025.org.uk