A new partnership agreement will see the Royal Veterinary College (RVC) work with City University of Hong Kong (CityU) to promote academic exchanges and develop collaborative research programmes.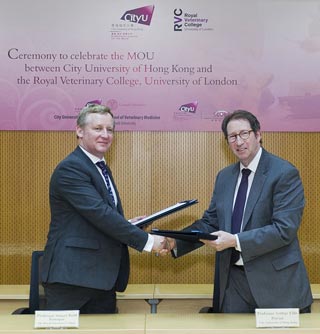 RVC principal Stuart Reid and CityU provost Arthur Ellis signed a Memorandum of Understanding during a ceremony at CityU.
Speaking at the ceremony, Prof Reid said: "I am excited to be partnering with CityU. This partnership signifies the RVC's long-term commitment to work for the good of animals and humans in the UK and Hong Kong."
Exchange activities
Under the partnership, academics from the RVC and CityU will have the chance to participate in exchange activities at both institutions. Both are also keen to explore the possibility of offering joint programmes and to encourage collaboration in scientific research.
Prof Ellis said: "This is an important collaboration that will not only nurture veterinary professionals, but also aligns with CityU's one health initiative to achieve optimal health for people, animals and the ecosystem."
Veterinary nursing diploma
One of the first collaborative initiatives is the launch of the advanced diploma programme in veterinary nursing. The RVC will support the curriculum design and the creation of teaching materials for the programme, which will be offered through the School of Continuing and Professional Education at CityU.
Starting in September, the diploma aims to meet the increasing demand for professionally qualified veterinary nurses to support Hong Kong's veterinary sector. The two-year full-time diploma covers anaesthesia, critical care, animal health, preventive care and surgical and medical nursing, as well as veterinary diagnostic imaging and laboratory techniques.