A wildlife hospital has opened its doors to online visitors worldwide by featuring in a Google 360 virtual tour.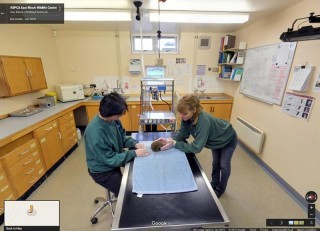 Web users can get a behind-the-scenes look at the inner workings of RSPCA East Winch Wildlife Centre in Norfolk – one of the country's busiest wildlife centres.
At the click of a mouse the public can take a virtual tour of the hospital and view young seal pups being fed a fish dinner, a hedgehog having a health check and swans convalescing in their own cubicle.
Unique opportunity
Centre manager Alison Charles said: "It is really exciting people can have a fly-on-the-wall snapshot view of what we do behind the scenes.
"They can see the isolation and intensive care unit, veterinary corridor with x-ray room, preoperative area, operating theatre and laboratory, as well as the seal pools. It's fantastic.
"The wards are not normally open to the public, so this provides a unique opportunity for people to see what goes on to provide the best level of care we can to these wild animals that need our help."
Unusual inspiration
The original idea came from Alan Moynihan, a member of the RSPCA's IT department who took inspiration from the Google Street View tour of the inside of decommissioned Royal Navy submarine HMS Ocelot.
Mr Moynihan said: "It inspired an idea about our animal hospitals and centres, which are fascinating places.
"RSPCA East Winch jumped out as an ideal candidate where we could offer the public a great opportunity to have a look behind the scenes and see how the RSPCA helps wildlife casualties."