Vets Michael Hendry and Chris Edwards are retiring from Bishop, Hendry and Edwards in Newport after notching up more than 30 years apiece at the practice.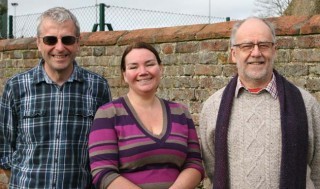 Their retirement has been made easier knowing they are handing over to a familiar face, vet Emma Leyland, who will continue to develop the business.
Emma has worked at the practice for six months and said she is delighted to be taking on her "dream job".
Exciting plans
Mr Edwards said: "Emma is an excellent vet and a wonderful person. We know our legacy is not only in safe hands with her, but that she has some exciting plans for its future, which we are in full support of."
Refurbishment of the reception and frontage is already underway, with further redevelopment planned for the near future.
The practice is also moving to an appointment-only system to reduce waiting times, which has been met with approval after a consultation with clients.
Health club
Emma is also looking forward to launching a preventative health care scheme called the Pet Health Club, giving owners the option to pay a reduced fee for their pets annual preventative care treatments.
She explained: "It'll give clients the peace of mind that their pets' preventative care is all taken care of, they get reminders to come in and pick up flea and worming treatments, an extra health check six months after their pets' annual vaccination booster and pet food at cost price, as well as lots of other offers and benefits from joining the scheme."
The team of two additional vets, three nurses and four support staff remains the same, while long-standing vet Barbara Kurbelova will take on the advanced dermatology cases previously treated by Mr Edwards.