An online hoax by an internet fashion retailer, which claimed to be offering puppies for sale through the post, has been branded "sick" by a former head of the BSAVA.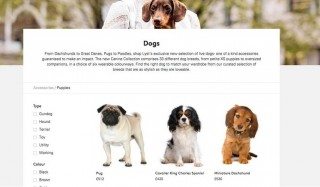 Animal lovers across the country reacted with horror after Lyst.com announced the launch of its "canine collection" on Twitter.
The company claimed to be offering 33 different breeds of dog, in various sizes and matched to certain outfits, that could be sent by post to customers.
The firm has subsequently admitted to the hoax, but has provoked a furious backlash, not least from former BSAVA president Mike Jessop.
Tireless work
Speaking exclusively to vettimes.co.uk, Mr Jessop said: "This attempt to parody what is a hugely important issue is just totally sick, in my opinion.
"People right across the veterinary profession have been working tirelessly for many years to prevent puppy farming and tackle the massive health and welfare issues that arise as a result, and this kind of tasteless parody does a lot of harm.
"This kind of thing can do a huge amount of damage to those efforts and, in my opinion, is totally unacceptable and certainly not funny."
The vet-led Pup Aid petition against puppy farming collected 111,572 signatures, prompting a debate in the commons in 2014.