A new range of equine feed supplements to help support normal gut function has been unveiled by MSD Animal Health.

The Coopers Gut range uses a mixture of prebiotics and postbiotics to support the beneficial bacteria and help maintain normal gut function while eliminating the need to supplement with a probiotic, MSD claims.
Hindgut support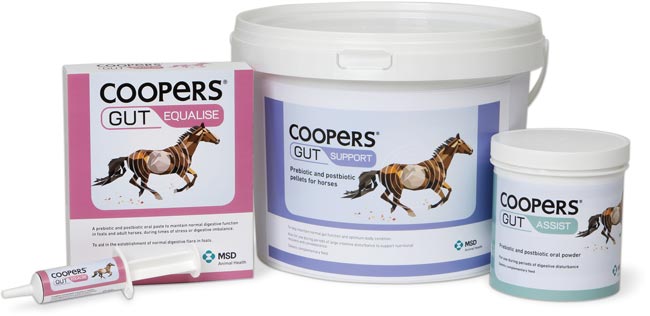 Equine business manager Peter Young said: "I am particularly excited about the launch of the Coopers Gut range, not least because it offers vets a solution to help support horses' hindgut function and maintain digestive health.
"With three products in the range, vets can choose the most appropriate product for each horse's individual situation, either short-term or long-term."
Product details
The three products in the Coopers Gut range are:
Coopers Gut Support – prebiotic and postbiotic pellets to be mixed with feed or fed alone for daily use to help maintain normal gut function. It can also be used in periods of high-energy requirements to maintain optimum body condition.
Coopers Gut Equalise – a prebiotic and postbiotic oral paste to help maintain normal digestive function in foals and adult horses during periods of stress and digestive imbalance.
Coopers Gut Assist – a prebiotic and postbiotic oral powder for horses, enriched with smectite for use during periods of digestive disturbance.
To find out more, vets should contact their MSD Animal Health equine account manager or wholesaler. Further information is available from MSD Animal Health, Walton Manor, Walton, Milton Keynes MK7 7AJ, telephone 01908 685 685 or at www.coopers-range.co.uk