A new natural product to help manage intestinal health in cats and dogs has been launched by veterinary nutraceutical manufacturer Nutravet.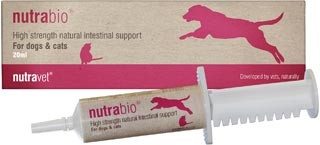 Developed in the UK by vets, Nutrabio is delivered in a high-potency veterinary strength paste combining natural probiotic bacteria (Enterococcus faecium) and prebiotics, together with extract of sweet basil and kaolin to soothe the intestinal tract.
Elite bacterial strain
Nutravet managing director Matthew Shaw said: "Studies have shown the elite strain of probiotic bacteria we use in Nutrabio helps to normalise faecal consistency and increases the number of beneficial bacteria in the gut – working to achieve a healthy microflora, while boosting the immune system and crucially ensuring rapid intestinal stabilisation.
"Given that digestive upset in cats and dogs is a common reason for owners to bring their pets into practice, we know our veterinary customers will welcome the addition to our product range of a new natural formula offering intestinal support."
Nutrabio is available to order exclusively through authorised veterinary practices. For more information, email info@nutravet.co.uk or visit www.nutravet.co.uk