Members of the veterinary profession and equine professionals from various sectors – such as veterinary schools and charities – discussed the behaviour of horses at a seminar held at The British Horse Society HQ.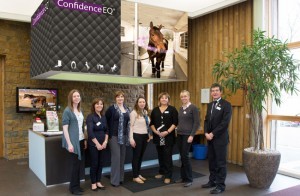 Delegates debated whether horses were misbehaving or are misunderstood via a series of talks and workshops. The event was organised by Ceva Animal Health.
Speakers included Natalie Waran, director of Jeanne Marchig International Centre for Animal Welfare and Education at the Royal (Dick) School of Veterinary Studies, and Gemma Pearson, senior clinical scholar at the University of Edinburgh's equine hospital and veterinary liaison officer for the International Society For Equitation Science.
They were joined by companion animal behaviourist and lecturer Loni Loftus; Nic de Brauwere, chairman of the National Equine Welfare Council and head of welfare and behaviour at Redwings Horse Sanctuary; and Jo Gourlay, veterinary advisor at Ceva Animal Health.
Workshops
The delegates worked in groups to get to the heart of the issue and develop solutions. They identified the most common areas of behaviour and welfare affecting the average horse owner in their day-to-day life were:
misinterpretation of behaviour
lack of basic knowledge of horse care
horse owners often believing a higher level of success is possible for them and their horse than what is realistic.
The delegates were then asked what action should be taken to increase both awareness and availability of evidence-based guidance to help both horses and owners. It was agreed a centralised and accessible information resource should be launched for owners to access and use to suit their individual needs and learning styles.
They also said the behaviour and welfare standards – the five freedoms – need to be highlighted and behaviour professionals need to recognise there are different ways of achieving better welfare.
Finally, it was decided behaviour and welfare training should be embedded in the culture of academic and professional bodies, with a view to professionals cascading knowledge to owners for recognising potential behavioural issues.