The CVO has confirmed an outbreak of the H5N8 strain of avian influenza (AI) at a third poultry farm in Lincolnshire.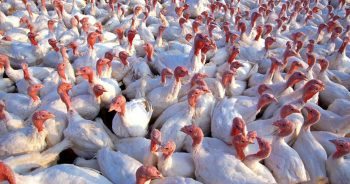 The fresh breakdown is on a farm near Boston and affects around 19,500 turkeys. Some of the birds have died and the rest are being culled.
Investigation
Defra said an investigation was under way to determine the source of the infection.
A 1.8-mile (3km) protection zone and 6-mile (10km) surveillance area have been set up around the farm to reduce the risk of the disease spreading.
The first Lincolnshire H5N8 outbreak was confirmed on 16 December at another turkey farm near Louth, where 6,000 birds were culled. The second was at a poultry farm in nearby East Lindsey on 16 January.
Cull of 10,000 birds
H5N8 has also been discovered at a commercial game (pheasant) rearing farm in Pilling, Lancashire, where 10,000 birds were culled (confirmed on 24 January), and in backyard flocks of chickens and ducks in Carmarthenshire (4 January) and Settle, North Yorkshire (6 January), as well as a swan sanctuary in Dorset.
An AI prevention zone was declared on 6 December and will remain in place until 28 February. It requires owners to keep poultry and captive birds indoors or take steps to separate them from wild birds, which are believed to vector the H5N8 strain of the pathogen.
H5N8 has also been found in 14 European countries, including France and Germany, in the past two months.