The first ever open-heart surgery to treat a stenotic tricuspid valve in a dog has been successfully carried out at the Royal Veterinary College.
Three-year-old Labrador retriever Mabel was referred to cardiology specialists at RVC Small Animal Referrals, where her tricuspid valve was found to be fused in the middle with just two very small openings for blood to flow through.
Lengthy procedure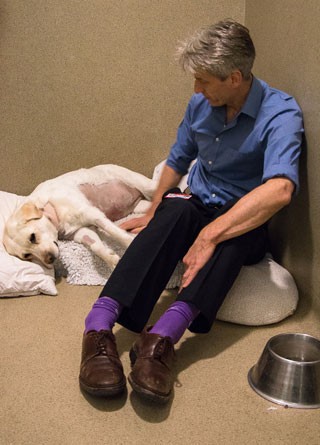 An RVC team performed open-heart surgery for more than an hour to examine and work on the valve.
Mabel's surgery was a success and her stenosis was relieved. She was subsequently found to have a moderate amount of regurgitation into the right atrial chamber, but returned home after a few more days of additional monitoring.
The surgery was carried out by small animal surgery professor Dan Brockman at the Queen Mother Hospital for Animals.
Prof Brockman said: "We had a patient whose pathology made surgery the best solution. I explained to the owner this procedure would be breaking new ground.
"Based on what the human paediatric cardiac surgeons will do, and our limited experience of balloon-valvuloplasty suggests, this is the best approach for these dogs."
High risk
Prof Brockman added: "The operation itself is risky, much worse than most other operations. In our hands, for this type of disease, we have about an 80% chance of getting them through the procedure. The owner has to gamble what life the dog has left against the promise of a more normal quality of life and lifespan following the operation."
Prof Brockman was helped by a team of RVC specialists to provide pre and postoperative care, including:
a perfusionist
three anaesthetists
two surgery nurses
three surgeons
a cardiology veterinary specialist-in-training
In addition, veterinary cardiology professor Virginia Luis Fuentes and veterinary specialist-in-training Rosie Payne were members of the cardiology service investigating Mabel's condition.
Students were also involved in Mabel's initial examinations at the hospital, providing them with first-hand insight into the ground-breaking procedure.
Read more about the procedure in the 28 March edition of Veterinary Times (VT46.12).