A greyhound is on the road to recovery after having surgery to remove its eye after it was rescued from Spain by a British animal welfare charity.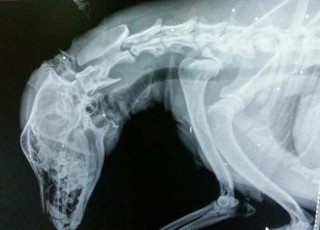 YourVets Solihull first met Spanish greyhound Lorca in 2013 after she was rescued by Birmingham Greyhound Protection (BGP).
Lorca had been caught up in Spain's hare hunting season and was in need of urgent medical treatment, so BGP founder Kerry Elliman bought her to England.
However, YourVets Solihull practice manager Rebecca Dorman said when Lorca was rescued her future was far from certain.
Continuous problems
Mrs Dorman said: "When we first x-rayed her it became clear she had been used as target practice by hunters, leaving 36 pieces of buckshot in her body and face, with one piece lodged behind her eye.
"She had been in and out of the clinic since coming to England with continuous problems with her eye, and in January this year my team and I […] recommended we perform enucleation surgery and remove Lorca's damaged eye.
"While it is not an exceptionally complex procedure in itself, enucleation is always the very last option to alleviate the animal's pain, primarily due to the irreversible nature of the surgery and the emotional toll it can take on both pet and owner.
"Thankfully, both cats and dogs are able to tolerate blindness well and will be able to go on living normal, happy lives."
Shocking conditions
The team successfully removed Lorca's eye and were delighted to hear that she is doing well.
Mrs Dorman said: "Lorca's story was certainly one of the more traumatic cases we've had at the YourVets clinic. It is so shocking to hear the conditions these beautiful dogs are being subjected to in Spain, all in the name of sport."
She added: "I am so pleased there is a happy ending to this story; however, it really highlights the sad lives some animals live.
"While the team at BGP can only bring a small number of greyhounds back from Spain, we hope those, like Lorca that are successfully rehomed, will help raise awareness of the cruelty in Spain and will encourage more people to help the cause.""