A vet has called for a working protocol between police and local councils to deal with horse abandonment after putting up £4,000 to track down those who left dying horses in Derbyshire and Nottinghamshire.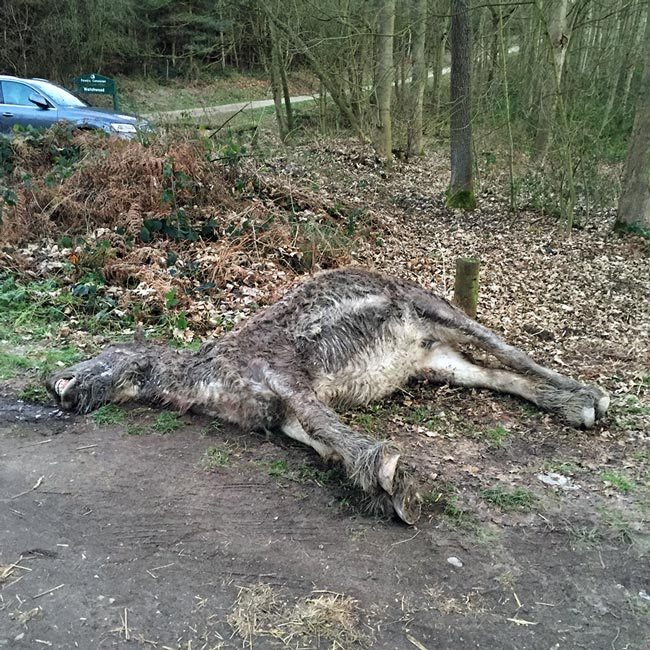 Vet Janice Dixon, of Trentv­alley Equestrian Centre in Nottinghamshire, and colleague Rose Wilson put up a £2,000 reward for information after a horse was found with a broken neck and abandoned, but still alive, on a rubbish heap in Shirebrook, Derbyshire.
This was reported to police who passed it on to the RSPCA, but Miss Dixon claims no one attended and the horse was still alive the following morning.
This month, the carcase of a second horse was found at a car park in Calverton, Notting­hamshire. The mare had been in labour and the amniotic sac was hanging out of her. Neither horse was microchipped.
Frustration
Miss Dixon, who founded the charity Help For Horses out of her "frustration for the raw deal horses get", has offered a further £2,000 for information.
She said: "Police will not investigate it as they state it is now in the hands of the RSPCA and this is the standard procedure.
"The dog walker who found the horse [in Calverton] telephoned police, who took the details and said they were passing it on to the RSPCA. The lady waited an hour because she was informed they would be in attendance, but eventually got a call saying they would not. She then called Help For Horses.
"My frustration is police pass everything to the RSPCA, which is a charity. You wouldn't hand every case of child abuse over to the NSPCC, would you?"
'Off the radar'
Miss Dixon also said: "This is a crime trading standards [local authority departments] seem not to want to follow-up and prosecute. If it was a cow or sheep, Defra would become involved. If it was a food-producing animal, trading standards would be on it. But the horse seems to fall off the radar.
"Something needs to change. The monetary value of many horses in this country is such that this is becoming a real problem and one many councils are having to deal with.
Read the full story – including reaction from the BVA – in the 23 January issue of Veterinary Times.