Animal lovers took just three hours to raise the £2,500 required to fit a pacemaker and save a rescue dog with a third-degree heart block.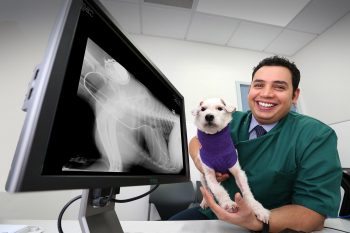 Molly, a five-year-old terrier cross in the care of the RSPCA's Coventry branch, was in danger of dying because her heart was beating too slowly. However, her story captured the hearts of donors when it was broadcast on local and national media, and within 180 minutes of the appeal being launched, the cash target was hit.
Uncommon procedure
The two-hour procedure to fit the pacemaker was undertaken by a team from Willows Referral Service in Solihull, led by head of cardiology Chris Linney.
He said: "Molly had a dangerously slow heart rhythm and, without the operation, the outlook for her was far from certain. It's still a fairly uncommon procedure to fit a dog with a pacemaker and, of course, Molly's story has captured people's imagination, so there was a bit of added pressure.
"The operation was challenging due to her small size, but it went according to plan and Molly is recovering well. The team has fallen in love with Molly, she is a fantastic dog and has been an absolute star during her time with us."
TV series
Molly, who has previously featured on Channel 5 documentary series The Dog Rescuers after being taken in by the RSPCA, has already overcome a severe skin condition that took her months to recover from.
Danni Holder, kennel supervisor at the RSPCA's Coundon Wedge Drive centre in Coventry, said: "We are extremely grateful for everything the veterinary team at Willows has done for Molly.
"The operation means Molly has a new lease of life. We think she will get rehomed really quickly, which will be the icing on the cake for her and complete a remarkable story."