UK veterinary professionals can learn how to deliver welfare checks known as "PetWise MOTs", courtesy of PDSA.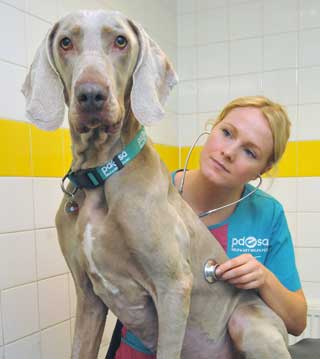 The checks focus on the five welfare needs as defined in animal welfare legislation, following reports public awareness of these needs has dwindled.
A limited number of free spaces on Petwise MOT training days are being offered to the veterinary profession in a bid to improve pet well-being in the UK. The workshops count towards seven hours of CPD and are fully accredited by the CPD Standards Board.
Unique consultation structure
PDSA pet well-being project manager Richard Casey said: "This unique consultation structure was developed in response to falling awareness among owners of their pets' welfare needs, with millions of pets suffering unnecessarily.
"PetWise MOTs use a simple traffic light system and personalised action plans to reverse this trend by helping to inform and engage owners about what their pets need to be healthy and happy."
To date, more than 100,000 PetWise MOTs and follow-up checks have been conducted by PDSA, resulting in a range of positive outcomes – including a 45% reduction in the number of pets not having any of their welfare needs met.
Practical approach
PetWise MOT training is suitable for all clinical members of practice teams, but may be of more interest to nursing teams and those with a keen interest in engaging clients with the needs of their pets. The workshops will focus on dogs, cats and rabbits, although the consultations are transferable to all species.
Alison Case, a senior vet at Bow PDSA pet hospital, said: "PetWise MOTs give a really practical approach to running clinics based on the pet's welfare needs.
"We've seen a positive impact on patient care by looking at husbandry at home as well as the clinical concerns of the patient.
"The consultations help to strengthen the clinic-client bond through professional support and advice. We've had great feedback from our clients, who are now more aware of the routine needs of their pets."