A family event hosted by the University of Surrey to celebrate its 50th birthday lived up to its title – the Festival of Wonder.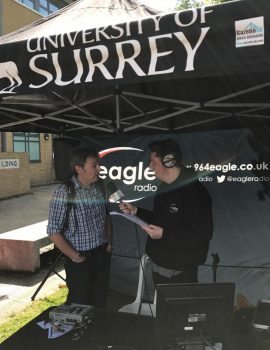 To mark five decades of education, veterinary school students, staff and partners met members of the public during a family-friendly open day on 13 May.
Flocked to the event
Thousands of visitors, young and old, flocked to the Festival of Wonder, where they listened to a host of speakers, including science communicator Mark Evans and pioneering veterinarian Noel Fitzpatrick.
At the veterinary school, students taught children veterinary skills.
The young visitors also took part in an interactive digital quiz and were treated to a horse and cart ride up to the vet school's farm to meet with representatives of Marwell Zoo and Surrey Wildlife Trust.
Relaxing with dogs
At the end of the day, children were invited to relax with dogs from Pets as Therapy, while listening to a story read by actress Dame Penelope Keith, who starred in television programmes The Good Life and To The Manor Born.
Chris Proudman, who is head of the school of veterinary medicine, said: "We were delighted to welcome so many families to our 50th birthday celebration.
"I was particularly proud of our vet school students, whose enthusiasm and energy seems boundless. They will, no doubt, have inspired future generations of veterinary scientists."