A practical guide detailing key considerations when it comes to vaccinating cats is now available to veterinarians.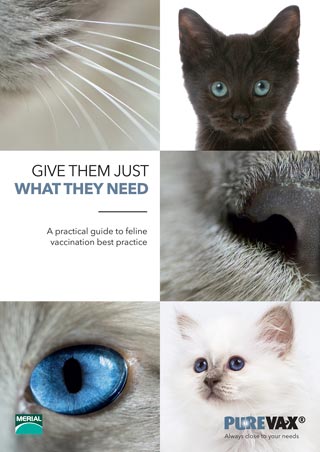 Animal healthcare company Merial produced the guide and complementary practice support materials in response to a survey, which found 76% of small animal vets admitted they were not fully aware of the most recent feline vaccination guidelines.
The guide, entitled "Give Them Just What they Need", is something 98% of vets stated they would find useful.
Unaware
The survey of 114 UK small animal vets found, while most (82%) were aware of feline vaccination guidelines from organisations such as the WSAVA and European Advisory Board on Cat Diseases, 58% didn't know the content well. A further 18% stated they were not aware of the guidelines at all.
Merial product manager Claire Edmunds said: ''Understanding that vets are busy people, and using all of the insight we have gathered from vets and owners to shape the content of the guide, we have condensed previously published vaccination recommendations into really useful, practical advice."
Better informed
"The new guide and complementary support materials will hopefully prove to be valuable resources for vets, giving them the information they need when reviewing their vaccination protocols, in a quick, easy-access format," Ms Edmunds explained.
"By being better informed about the latest recommendations, we want vets to feel more confident in discussing all aspects of vaccination with their clients."
The supporting materials include social media and newsletter resources to help vets initiate conversation around the topic of vaccination.
The practical guide to feline vaccination best practice is now available from regional territory managers. It can also be downloaded from Merial's practice support portal.