Equine training trailblazer Sue Martin has received the Sir Colin Spedding Award at this year's National Equine Forum (NEF).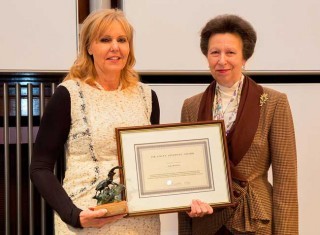 Mrs Martin leads Trent Park Equestrian Centre, a British Horse Society (BHS) equestrian centre of excellence that, according to the BHS, has grown into "one of the largest and most successful riding schools in the country" under her leadership.
Aiding reform
As well as running Trent Park, Mrs Martin chaired the Equestrian Trailblazer Steering Group for the Government's initiative to reform apprenticeships – bringing together around 50 members of equestrian disciplines and charities, as well as British Racing and the Household Cavalry.
Mrs Martin said she felt "truly honoured" by the award.
"I feel I am receiving this on behalf of the hard working team of dedicated professionals who have given their precious time and effort to bring the new trailblazer apprenticeship into fruition," she said.
Coordinated voice
Of the work achieved by the team, Mrs Martin said: "I believe the late Sir Colin would have felt we had succeeded in maintaining his ethos of 'considering and speaking in a coordinated voice on matters of the moment'.
"I hope to retain this unity of professionals and work together in the future for the good of the industry."
The Sir Colin Spedding Award was established in 2013 and originally awarded to its namesake in recognition of his services to the equine sector – including founding the NEF and chairing it for 19 years.
The NEF takes place annually and brings together all areas of equestrianism – vets, welfare charities, sporting bodies, physiotherapists, saddlers and farriers – to discuss and debate the latest issues.