A rescue dog has overcome its fear of the vets after its owner bought it a stethoscope.
Riley, a German shepherd-collie cross, would shake and growl whenever he was taken into Westway Veterinary Group's Birtley branch by owner Nina McGough.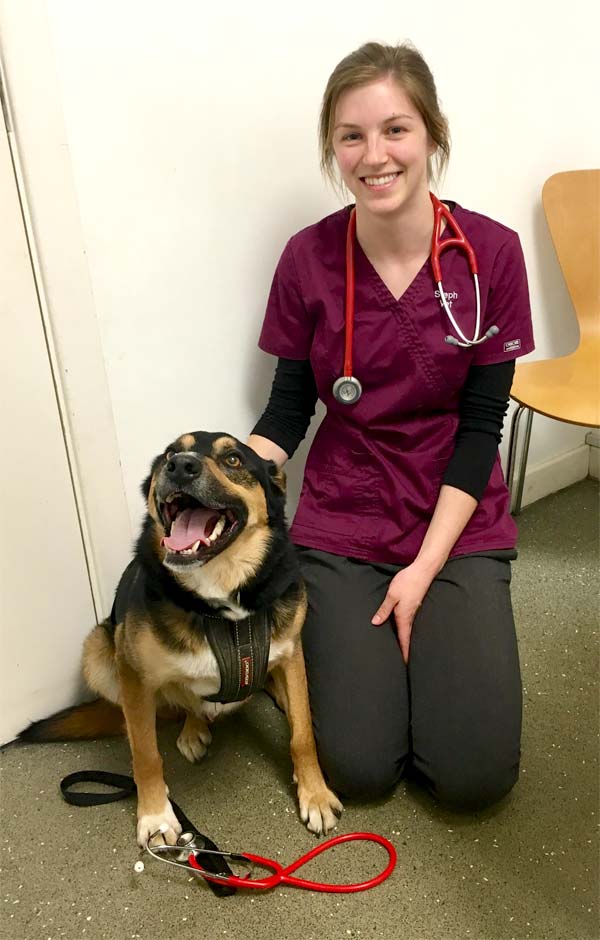 His behaviour stemmed from the fact he was terrified after enduring a tough start in life when he faced being put down at a council dog pound in Lancashire.
However, with the help of vet Stephanie Veitch, the five-year-old slowly lost his fear of the surgery, but there was one final phobia to overcome – being examined with a stethoscope.
Facing his fears
So his owner bought a red stethoscope – identical to the vet's equipment – and for two months gently introduced it to Riley. Now, he rolls over on his back, has his heart examined by Dr Veitch and is rewarded with a treat for his bravery.
She said: "Riley is a very nervous dog. If a door slams in the house, he cowers under the bed.
"When the stethoscope arrived through the post, we started teaching him there was nothing to be scared of. We let him sniff it and gradually introduced it to his play and giving him treats.
"The big test was going into the surgery, so we took his stethoscope with him and played for a while. Steph then got her own stethoscope. He lay down, rolled over, had his heart checked and then a treat. He was full of love for her afterwards."
Relaxed and happy
Dr Veitch added: "It's a very heart-warming case because the owner has put in so much effort, and it has really paid off as Riley really enjoyed himself the last time he came into the surgery.
"The growling was just down to fear because when he's relaxed he is a lovely dog, who loves to play."