One of the most advanced, single-discipline specialist veterinary hospitals in the country has opened its doors to patients.
Manchester Veterinary Specialists (MVS) is a £1m-plus purpose-built orthopaedic centre based in Worsley and part of the CVS referral network.
European specialists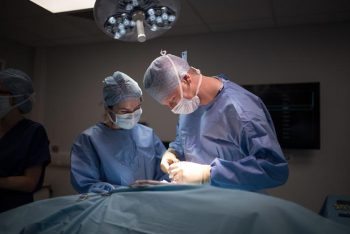 The hospital is led by joint clinical directors, orthopaedic surgeons Ben Keeley and Steve Bright, both of whom are European and RCVS-recognised specialists in small animal surgery.
The MVS clinic is located adjacent to Pet Medics, the company's long established 24-hour hospital that is undergoing a complete refurbishment.
Latest equipment
The hospital is equipped with the latest diagnostic and surgical equipment, including:
modern theatre suites
state-of-the-art monitoring and anaesthesia facilities
a Siemens 16-slice CT scanner
a fluoroscopic mini C-arm to facilitate minimally invasive surgery (MVS is the only UK veterinary clinic to own one)
Services offered, meanwhile, include fracture repair, arthroscopy, tibial plateau-levelling osteotomy, total hip replacement and arthrodesis.
'Major step'
CVS referral director John Innes said: "The opening of MVS is another major step towards our goal of offering veterinary specialist services right across the UK and we are delighted it is now receiving its first patients.
"Ben and Steve have worked together for many years and are both highly respected in the profession. They have built an excellent team around them and will be working hard to develop an outstanding reputation for MVS in the months ahead.
"Our referral network now includes seven centres of excellence for specialist care and we anticipate further growth during 2017."