A hedgehog grown so large through "well-intentioned feeding" it can no longer curl into a ball has been put on a strict diet and exercise regime.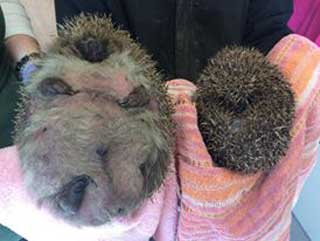 Staff at the Oak and Furrows Wildlife Rescue Centre in Wiltshire are currently caring for the spiny mammal, nicknamed Hogzilla.
The prickly porker tips the scales at 1,842g – nearly three times the the size of an average hedgehog, which should ideally weigh between 600g and 900g.
Dining like royalty
A spokesman for Oak and Furrows said: "On 15 February we collected nine hedgehogs from a lovely lady who has been caring for them completely out of her own pocket over the winter, but had become concerned they were all developing a skin condition, or mange, and was not sure how best to treat them.
"We offered to visit and take them on to ease the burden from this generous, well meaning, but ill-informed lady."
Despite their size, the hedgehogs were all very well cared for and had been eating like kings and queens.
Incorrect nutrition
The spokesman said: "The hogs were so well fed on all of their favourite treats, including chicken liver pate, baby rice, mealworms and full fat goat's milk, that the main problem they were suffering from was being too plump and, although they were eating a lot, it wasn't giving them the correct nutrition."
The hedgehogs are  now on strict diets at the sanctuary and should be released after shedding weight and once the weather improves.