Veterinary experts, doctors and scientists have come together in a one health coalition to drive the acquisition of knowledge into one of the UK's most baffling and lethal canine diseases.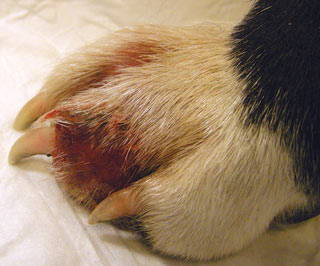 The Cutaneous and Renal Glomerular Vasculopathy (CRGV) Focus Group met for the first time to discuss what is popularly referred to as "Alabama rot".
The first CRGV case in the UK was identified in December 2012 and 102 confirmed cases have occurred since, with a mortality rate of more than 80 per cent.
Extensive research
Extensive research has, so far, failed to positively identify any trigger agent or confirmed link between geographical locations where the dogs picked up the infection.
Vet David Walker, of Anderson Moores Veterinary Specialists, is recognised as the UK's leading expert on CRGV and told 30 focus group delegates, despite a tremendous amount of work already done to pinpoint the cause of CRGV, no breakthrough had been made as yet.
Early evidence had suggested a possible environmental link to dogs being walked in muddy woodland areas, but human and veterinary experts are now looking for clues at a cellular level.
Evidence does, however, suggest a seasonal factor may be at play. Mr Walker said 90% of confirmed CRGV cases occurred between the colder months of November to May, with February and March being the peak UK CRGV months.
Specialist links
Mr Walker said he believed the key to cracking the mystery of CRGV was collaboration between the human medicine and veterinary medicine disciplines, and that is why the focus group had been created.
He said: "Collaboration is key. Setting up links with universities across the UK and links with specialists from the human fields will really help push things forward.
"There's been huge amount of work done in separate little projects to this point, but now its more about a targeted approach."
Read the full story in the 29 May issue of Veterinary Times.