A cat had a lucky escape after surviving a life-threatening situation with one of its kidneys.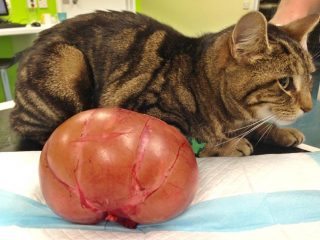 Six-year-old Milly was taken to White Cross Vets in Wolstanton, Staffordshire after her owners noticed a lump on her abdomen that had been gradually expanding.
Vets carried out a blood test, which appeared normal; however, an ultrasound revealed one kidney had swelled to 600% of its regular size.
Diagnosis
After making an abdominal incision and finding the aggravated kidney, the team were able to diagnose hydronephrosis, a rare condition where a blockage between the kidneys and bladder causes urine to build up in the kidneys – or, in Milly's case, one kidney.
Vet Laura Oliver, who performed the operation, said: "When we first saw Milly, she was lethargic and uncomfortable, and it soon became obvious why.
"Her kidney had swelled so much, even the slightest amount of pressure could have caused it to rupture.
"The kidney was so big, it made it difficult to remove – it is certainly one of the most extreme cases I have seen."