The International Society of Feline Medicine (ISFM) is launching a campaign highlighting the need for all cats to receive post-neutering pain relief.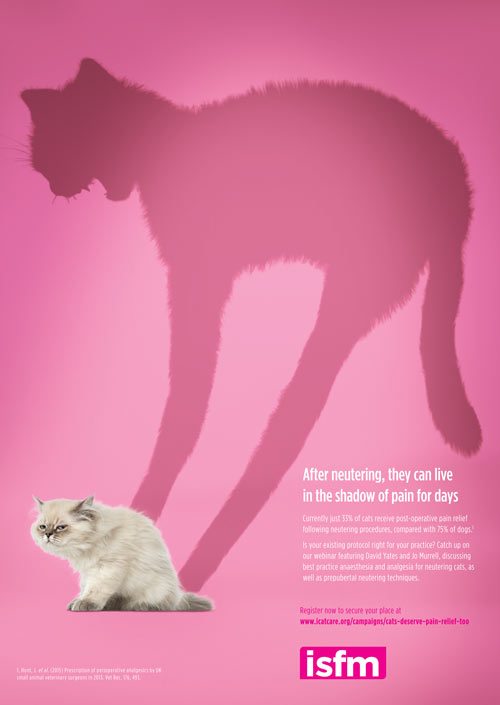 Titled "Cats Deserve Pain Relief Too", the campaign has been prompted by a study that revealed perioperative analgesia following neutering was only given to 33% of cats compared to 75% of dogs – a statistic the ISFM said it is "very keen" to change.
The campaign – which includes a free webinar for veterinary professionals – is to highlight the reasons cats are not receiving postoperative analgesia, as well as aiming to encourage clinics to review their policies on prescribing analgesics for routine neutering procedures.
False perception
The ISFM said it already encourages the routine assessment and treatment of pain in cats, but that recognition is not always "straightforward".
This, it said, could be down to the perception cats experience less pain than dogs with neutering, which may actually be reflecting different behavioural responses to pain rather than "genuine differences".
The ISFM said other reasons cats receive less analgesia postoperatively could include:
cats being discharged relatively rapidly following neutering while still benefiting from perioperative analgesic injections
owners being unaware of the subtle signs of pain in cats while considering any changes to behaviour post-surgery as "normal"
vets assuming owners are unwilling to pay for, or administer, analgesic drugs to cats
Free online training
As part of its campaign, the charity – supported by Boehringer Ingelheim – is running a free webinar on 31 August at 8pm.
David Yates of the RSPCA and Jo Murrell of the University of Bristol's vet school will discuss "Neutering in practice: are your anaesthesia, analgesia and surgical protocols up to scratch?"