A British vet is preparing to start the greatest endurance cycle race in the world – a 3,000-mile coast-to-coast time trial across the US, which has to be completed in 12 days, virtually without sleep.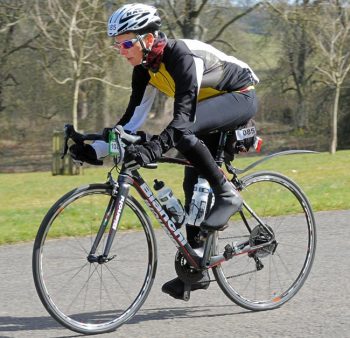 Penny Barker, a small animal vet at Burghfield and Goring Veterinary Surgeries in Berkshire, will join some of the world's greatest ultra-cyclists when the iconic solo Race Across America (RAAM) begins on 13 June.
Extreme
Competitors will cross the US from the west to east coast – a route that spans 12 states, incorporates 175,000 vertical feet of climbing through mountain ranges and crosses some of the hottest deserts in the world.
The winner of the extreme race – now in its 36th year – usually finishes in 8 to 9 days after riding approximately 22 hours per day, though competitors officially have 12 days to successfully complete the exhausting time trial.
The route traverses three major mountain ranges (the Sierra Nevada, Rocky Mountains and Appalachian Mountains), crosses four of the US' longest rivers (the Colorado, Mississippi, Missouri and Ohio) and the Great Plains.
Cyclists will also pass through iconic US landmarks, such as the Mojave Desert, Sonoran Desert, Monument Valley and Gettysburg.
'World's longest time trial'
Organisers of the race said: "Unlike the three great European Grand Tours (Tour de France, Vuelta a España and Giro d'Italia), RAAM is not a stage race.
"RAAM is one continual stage – once the clock starts, it does not stop until the finish line. It is the world's longest time trial… the ultimate race of truth."
How to help
Mrs Barker is undergoing final race preparations and training in the desert at Borrego Springs, California, prior to the start of the challenge.
She is racing to raise money for the British Heart Foundation and Hounds for Heroes.