A Scottish veterinary group helped make a seriously ill child's dreams come true after inviting her to spend a day at one of its practices.
Make-A-Wish UK, a charity that grants wishes to enrich the lives of children and young people fighting life-threatening conditions, arranged for nine year-old Ashlee Easton to visit Braid Vets Hospital in Edinburgh.
After arriving in style via limousine, she was introduced to the hospital's team of vets and nurses, before experiencing life as a vet.
Rare form of cancer
Brave Ashlee, from Falkirk, is living with a rare cancer, neuroblastoma stage four. During her day at Braid, she helped carry out a consultation on Barney, a dog owned by one of the staff.
Mike Hall, a Braid clinical director, said: "We were delighted to help make Ashlee's wish come true. We were told she loved big dogs, as her favourite movie star is Beethoven the St Bernard.
"We couldn't manage a St Bernard, but we did give her the chance to examine Barney, a friendly giant mastiff belonging to one of our nurses. They hit it off immediately and Ashlee listened to Barney's heart with her new stethoscope.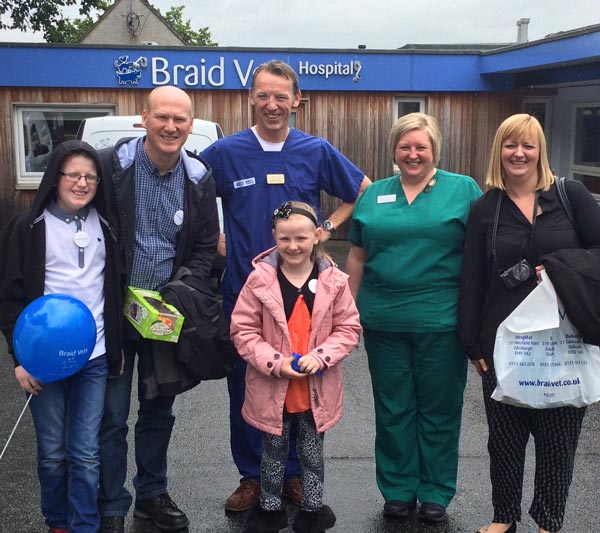 "We got her dressed up in a surgical gown, mask and gloves to help perform a make-believe operation on a stuffed toy dog, then Ashlee did a good job of bandaging its damaged leg under the watchful eye of head nurse Elaine Paterson.
"Ashlee and her family seemed to thoroughly enjoy their visit to Braid and our team were delighted to help put a big smile on her wee face."
Emotional experience
Mrs Paterson admitted Ashlee's visit was an emotional experience for the whole team. She said: "The staff thought it was a lovely thing to do and we were privileged to be part of Ashlee's day.
"Her face lit up when we brought Jake and Barney in for her to examine them. She loves animals, but dogs are her favourite.
"The experience was an emotional one as she is such a brave little girl with a brave family. It's especially hard when it's a child, but I'm just glad she thoroughly enjoyed herself."