BEVA Trust veterinary volunteers have performed their 100th equine castration and health care check for horses deemed to be "at risk".
Volunteers give up their time and expertise at a series of charitable equine health care and castration clinics organised by the British Horse Society (BHS), the latest of which was held in Northamptonshire on 5 April.
Nationwide clinics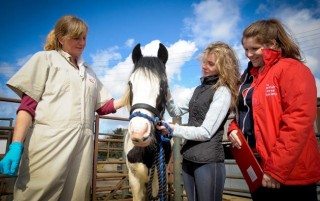 BEVA Trust has been working with the BHS and has been supported by Redwings Horse Sanctuary, Blue Cross, the RSPCA, HorseWorld and World Horse Welfare for the past year to support health care and castration clinics around the country.
The aim is to communicate with owners whose horses are deemed "at risk" through the provision of vaccination, subsidised castration, microchipping and, where appropriate, worming courtesy of Zoetis.
The latest clinic was held in Thrapston and was staffed by veterinary volunteers from the University of Nottingham. Fifteen horses were checked and castrated, bringing the total number of castrations through the project to 113.
In addition, eight horses were registered for passports – making a total of 161 passports issued via the project so far.
Great success
Mark Bowen, associate professor of veterinary internal medicine at the University of Nottingham and BEVA president, said: "It was a great success and all surgery went very smoothly.
"Through the BEVA membership we were able to provide volunteer vets for the clinic. It gives them an excellent opportunity to take part in some practical surgery, while giving their time to help the welfare of horses."
One further clinic is planned for this spring, to be held in the West Midlands. To find out how you can volunteer, visit www.beva.org.uk/aboutus/BEVATrust/UKProjects