The Queen has received a special message from a Battersea Dogs and Cats Home resident, following her 90th birthday.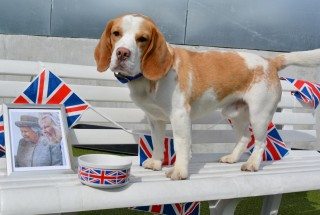 Marley the beagle sent the following message to Her Majesty, who is patron of the home, via her official online birthday book:
"Happy 90th birthday Your Majesty – that's 373 in dog years! I'm Marley the regal beagle, ma'am's best friend, and I wanted to let you know, from the whole Battersea Dogs and Cats Home family, we are so proud and honoured to have you as our patron. We hope you have a very special day."
Birthday wishes
Marley's message will sit alongside many others being collected to mark the Queen's special year.
Animals and humans alike can contribute to the book by adding birthday wishes, personal stories of meeting the Queen or photos and videos of street parties and celebrations for her official birthday weekend, taking place from 10-12 June.
The book will also raise funds for the hundreds of charities the Queen is a patron of through the sale of a commemorative medal specially issued by The London Mint Office.
Marley, meanwhile, has since been rehomed.