Battersea Dogs and Cats Home has introduced a daily siesta time to reduce stress levels of its residents.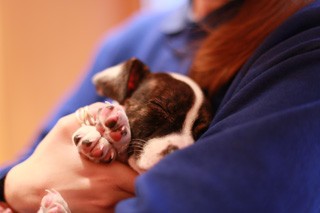 Siesta time is a golden hour in Battersea's kennels, where lights are turned off, soothing lullabies are turned on, and staff and volunteers must adhere to the do not disturb mantra.
Head of canine behaviour training Ali Taylor said: "Often, dogs are at their most stressed when they first arrive at Battersea. Kennels can be a very alien environment for a dog – especially if it has come from a family home.
"We'll try anything to help minimise anxiety during their stay with us, which is how siesta time came about.
"Dog owners might notice how often their pets will sleep during the day, but dogs at Battersea struggle with this when they're surrounded by so much noise in the kennels."
Battersea measured the impact of siesta time based on barking, jumping up and stress-related behaviours. Staff observed behaviour before and after, noticing, after just a few days, the positive effect the midday kip in kennels was having.
"We've definitely noticed a change in our kennels," said Ms Taylor. "There's less barking and the dogs are generally a lot calmer.
"They know when siesta time is coming and many of them are already in their beds before the lights are off.
"We even rehomed more dogs in January this year than we have in any other month over the past two years. That might not directly be because of siesta time, but the programme is certainly helping our dogs relax and that, ultimately, means they'll find loving homes faster."