Tough new measures recommended to combat animal cruelty in Northern Ireland have been welcomed by the BVA and BVA Northern Ireland branch.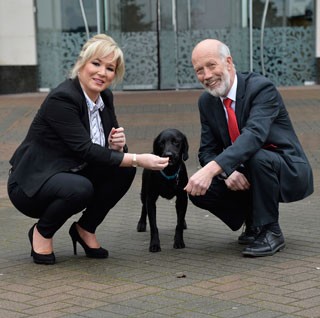 The final report of the review of the implementation of the Welfare of Animals Act (NI) 2011, launched in Belfast yesterday (29 February 2016) by agriculture minister Michelle O'Neill and justice minister David Ford, makes 68 recommendations aimed at enhancing communication between the enforcement bodies, improving processes and highlighting the Animal Welfare Service to the public.
However, at its heart, the report advocates tougher sentencing for those convicted of animal cruelty.
Quick work
Seamus O'Kane, BVA Northern Ireland branch president, said: "We are very pleased with these recommendations and the way in which DARD and the Department of Justice have worked together so quickly to put these recommendations into practice, accepting the recommendations before the publication of the report to allow necessary legislative changes to be made as early as possible.
"It is good to know work is already underway as regards tougher sentencing for those who mistreat animals.
"The BVA Northern Ireland branch would ask judges to consider these new powers for all cases that come before them that involve cruelty to animals, sending out a clear message in every instance about how animals should be valued and treated."
Enriched establishments
He continued: "We also welcome the recommendation dog breeding establishments will be inspected for how they socialise animals and enhance and enrich their environments, with this requirement due to be written into the regulations at the earliest possible opportunity.
"It was heartening to see one recommendation in action after the launch, with a joint DARD/Department of Justice workshop involving animal charities from across Northern Ireland sharing best practice on rehoming pets. Such sharing of best practice is a recommendation many vets who work and volunteer for animal charities across the country were keen to see.
"And all vets in Northern Ireland are behind minister Ford's message this morning – 'Crimes against vulnerable animals are abhorrent and will not be tolerated in our society'."
Decisive action
BVA president Sean Wensley said: "These are strong recommendations matched by decisive action to make the necessary changes to ensure those who mistreat and abuse animals are punished effectively by the law, while also committing to provide education for young people and the wider public on how to meet the welfare needs of animals.
"The government in Northern Ireland has made a clear statement about how animals should be valued and this is something to be warmly welcomed."