Animal lovers are being urged to donate baby socks to the Blue Cross to help keep pets' paws warm while under anaesthesia.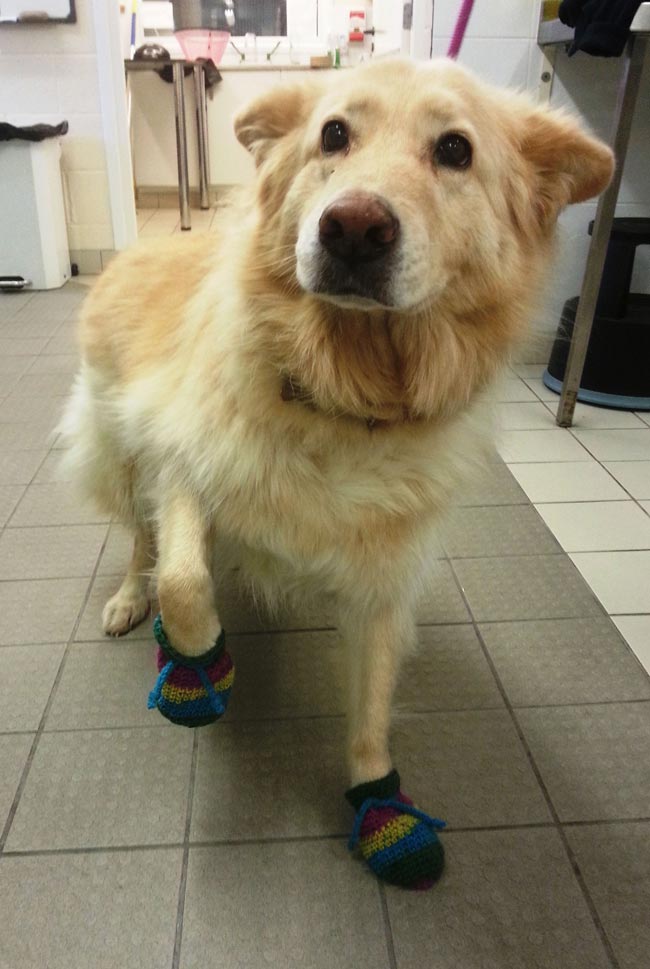 Requests for clean baby socks or washable handmade socks have been made by staff at Blue Cross hospitals in:
Merton, south-west London
Hammersmith, west London
Grimsby, Lincolnshire
Animals can lose heat through their paws when they are under anaesthetic, so staff give them the miniature footwear to retain body heat during procedures.
Quirky solution
Elise Smith, vet nurse at Blue Cross Merton, said the hospital had many ways of reducing the problem of lowered body temperatures, but said putting socks on anaesthetised patients was one of the quirkiest.
She said: "One of our lovely clients, Mrs May, takes the time to knit them in all different sizes for us and bring them in. She is fabulous and we are very grateful. Thank you, Mrs May."
Quad socks
Surrey dog lover Carol May has hand-knitted more than 20 pairs of socks for the charity's Merton animal hospital, and it takes her about 90 minutes to create two pairs.
Mrs May said: "They really are a fantastic team and knitting little socks for the animals makes me feel I'm giving something back to Blue Cross for all the help they've given me. I can't praise them enough."
If you would like to donate socks to one of the Blue Cross hospitals, please drop them into your nearest branch in Grimsby, Hammersmith or Merton, or post them to Blue Cross, 7 Hugh Street, London, SW1V 1QG.