Oakhill Veterinary Centre in Lancashire has installed an all-weather equine outdoor arena to complement the imminent arrival of a new equine standing MRI scanner.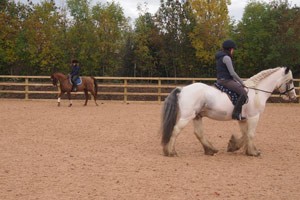 This custom-built 20m by 40m exercise area enables ridden assessment and will provide optimum facilities for vets Rosie Owen and Guy Hinnigan, who are both European recognised specialists, to carry out a wide range of investigations into problems such as lameness and poor performance.
Many orthopaedic problems in horses are visible only under saddle or on a soft surface, and the company says the arena is a vital addition to its existing advanced lameness diagnostic facilities.
It already has a fully equipped surgical suite, inpatient facilities and advanced dentistry equipment.
The arena, installed by Equestrian Surfaces of Burnley, has a high-performance Waxtrack surface allowing horses to have a consistent, secure footing. An all-weather roadway has also been installed to provide safe access.
This month will also see Oakhill take delivery of a low field standing MRI system, manufactured by Hallmarq. Standing MRI identifies the specific cause of lameness in more than 90% of cases as it allows specialists in equine surgery and imaging to view the activity of bones and soft tissue simultaneously, in great detail. Because the scan can be carried out using standing sedation, there is no need for general anaesthetic and the risks associated with it.
Oakhill partner Peter Acton said the arena and scanner would ensure its services kept pace with demand, "providing the very best facilities to our own clients and those referred from veterinary practices across our region".
The company has three small animal centres, two in Fulwood and one in Kirkham, and a mixed practice at Goosnargh for equine, farm and small animal clients.