With the Christmas festivities over and 2017 already upon us, many of you will have taken the time to make a new year's resolution you won't keep.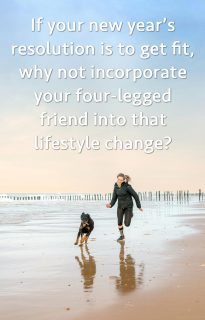 It is estimated only 8% of people succeed in achieving or keeping their new year's resolution (so the odds are against you), but if you feel this is your year to make a difference, why not incorporate your four-legged friend into that lifestyle change?
Fat cats and dumpy dogs
A lot of resolutions will be along the lines of trying to lose weight or get fitter, and while the human population has a weight problem, obesity is also rife in the UK pet population.
Headlines and statistics are forever telling us our pets are overweight, and my parents are sick of me enforcing a diet every time I go home to find my cats a little rounder than a few months previously. However, it wasn't until I spent a few days consulting in first opinion small animal practice, as part of one of our final year rotations, that the problem really hit me.
I'm used to seeing overweight pets in the consult room while on placement with other vets and I've witnessed the weight loss conversation more times than I can count. But on one particular morning, when I had similar conversations myself with four out of five clients, I saw the future of my veterinary career flash before me: overweight dog after overweight dog coming through the door.
Cruel is the new kind
Despite sounding like a broken record, I can only hope my words did not fall on deaf ears. So many owners didn't even realise their animals were overweight – "that's just his shape". And yet others are fully aware, but just can't ignore their pets' begging.
Unfortunately, sometimes you have to be "cruel to be kind" and ignore those big round eyes that are trying to melt your heart – your dog will be better off long term being denied those extra treats, but having a healthier lifestyle.
If you think your pet may be on the larger side of normal, vets will often run free weight clinics with the veterinary nurses to allow accurate monitoring and adjustment to diet and exercise.
Everyday changes
General advice would be to cut down on meal sizes and cut out treats, or at least substitute them with a healthy alternative such as carrots. Exercise should be determined on an individual basis, dependent on any existing health conditions (such as joint problems), breed and lifestyle.
There may be a medical reason for retaining weight, so if the aforementioned doesn't seem to be working, seek veterinary advice.
This new year, even if you can't keep your own resolution, why not make one for your pet and help them achieve the lifestyle they deserve? Or if you're trying to lose weight or gain fitness yourself, why don't you and your pet do it together?