For the first time in a very long time I am coping with the horror of horrors – a dog with an EC. A Buster collar. The cone of shame.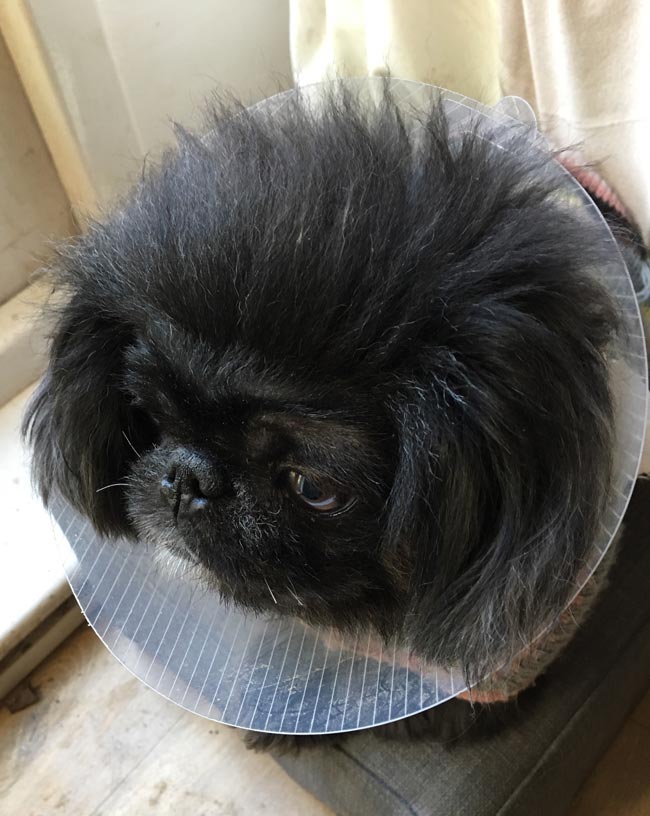 Hollie (the Peke) had some facial surgery recently, and therefore has a cat-sized collar.
I've long said I think selecting the right-sized collar and fitting it properly should be an OSCE task. Actually, while I'm on that topic I would also like to propose:
putting together the latest Argos cat basket safely – with two broken plastic clips
fitting a fancy new dog harness on a wriggling pug
But for now, we'll go for: how to cope with a dog and collar in your own home.
Back seat driver
As Hollie (H) has a short nose, the cat collar fitted her fine. Well, that was in the vet's opinion, the nurse's opinion, and in my opinion, but as soon as we got home, G (the husband) started questioning me. He thought it was too small and too short, while the bandage was tied too tight.
There's nothing like a back seat driver when pet owning, is there?
We later removed the collar to put H's jumper back on – it was January after all – and as I tied the bandage, G squeaked: "It's too tight."
I assured him it wasn't, but he complained again. We were standing together, H in his arms and me sorting her collar. I looked at him and laughed. "This is my job," I reminded him. He didn't look convinced. I demonstrated I could easily fit three fingers under the bandage tie. That the bandage tabs were not near her trachea. That the collar was fitted as comfortably as it could be.
New and unusual
That was met with a grumble. From G, not H. A look. A suspicious look. It wasn't that he doubted what I do for a living (although he has a long-held belief my best role in life was when I worked as an estate agent – but that's a whole other lifetime), or that he thought I was wrong. It was more that it was something new and unusual, and affecting his beloved H, and in our home.
There were also the worries about how well she could eat or toilet with it on, but so far she's proved it's a "yes" to both of those – however, it did take 24 hours for G to see that, so I could have been lying…
So this is how it's going in our house, and why I understand the need for that collar. I'm confident enough to take it off and put it back on safely and I can clean it easily too. It does also help that H isn't big enough to have a satellite dish-sized collar that:
needs you to move furniture, and
makes you feel like you've had your patella removed when it hits your legs
No answers
Therefore, it must be even worse in other homes, and why owner compliance with keeping collars on can be really difficult. They are large and cumbersome, and impede our beloved pets lives. When surgical wounds look so small and like they are strong, it's quite hard for people to comprehend just how much damage one tongue can do.
I usually like to write blogs raising questions and then, try to answer them. But this time I really can't. If H's wound had been elsewhere, a balloon/inflatable collar might have been better, and maybe more accepted by G. But this time, we've just had to tough it out.
So, when clients complain about the evils of their pet wearing a collar, maybe take the time to explain how important it is, and give them some guidance on how to cope. Oh, and the confidence to come back to you with questions if they have a G-like person at home, waiting with their worries.