Easter brings not only the endorphin rush associated with an abundance of chocolate eggs (perhaps more so for those of us who gave up goodies for Lent), but also the picturesque seasonal backdrop of spring lambs merrily bouncing about.
If only the reality was so idyllic…
Unfortunately, the lambing season brings with it a growing number of reports of sheep worrying and, even more concerning, reported dog attacks on young lambs.
Right of way
We are lucky to live in a community where many public footpaths allow the wanderer to happily stroll through the British countryside. However, most of these footpaths cross private land, the owners of which have very little choice in their presence and, at best, can apply for them to be moved, but not closed off completely.
The consequence of this is that, short of double fencing or restricting which parts of land are usable, farmers may be forced to keep livestock in fields that aren't just accessible by the public, but actually form public rights of way.
There are many downsides for the landowner, but most prominently at this time of year is the susceptibility of young lambs to uncontrolled dogs.
It's a distressing reality there are owners out there who would allow their animals to attack livestock, or lack the good sense to recognise they cannot exercise enough control over their animal to prevent something like that happening.
Keeping it legal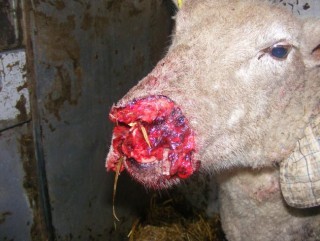 The Countryside and Right of Way Act states the public may only exercise their right to access open land if they keep dogs on a fixed lead of two metres or less near livestock.
Under the Dogs (Protection of Livestock) Act 1953, the owner of a dog worrying livestock is guilty of an offence. More recently, livestock are also covered by the Dangerous Dogs Act (1991), under which, if the dog attacks another animal, the owner can be given an unlimited fine, or sent to prison for six months. The owner may also be banned from owning dogs in the future and could be ordered to have the dog destroyed.
While there are laws supposedly protecting livestock, the reality is very difficult to police, unless the farmer catches the guilty dog or has CCTV. A farmer is also within his/her rights to shoot a dog that attacks livestock on their land.
Attacks, while the most instantaneous causes of devastation, are not the only problem. Sheep worrying earlier in gestation can also cause abortion, ultimately at a loss to the farmer.
Encouraging responsibility
Raising awareness within the veterinary and farming community would be preaching to the choir, but is there more we can do, as a profession, to encourage dog owners to take responsibility? Be that keeping their dogs on a lead, obedience training or simply avoiding sheep fields at particular times of year – perhaps it is up to small animal clinicians to lead the way on this one.
Posters in practices reminding owners of the repercussions of their actions could be enough, or even an off-hand remark to an owner about being careful walking through the fields at this time of year.
References