SAMANTHA THOMPSON RVN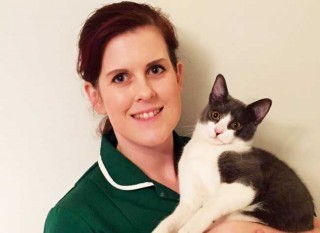 Wards supervisor at North Downs Specialist Referrals (NDSR), Surrey
T: 07736 736341
Summerleaze Veterinary Hospital in Maidenhead was where Samantha gained her NVQ in veterinary nursing in 2009.
Shortly afterwards, she began working at North Downs Specialist Referrals (NDSR), where she achieved her Graduate Diploma in Professional and Clinical Veterinary Nursing from the RVC. After four years at NDSR, Samantha had a brief spell at Moor Cottage Veterinary Hospital in Bracknell before taking the medicine nurse team leader role at Chester Gates Referral Hospital. After a year she moved back to Kent and took up the wards supervisor job at NDSR. She also teaches the Diploma in Veterinary Nursing at Hadlow College.
Why is she standing?
"Exciting" and "dynamic" are the two words Samantha uses to describe the veterinary nursing profession right now, with VNs being seen "more and more as professionals in [their] own right". "I hope this is only going to get better," she said.
Samantha also says she would bring "enthusiasm and dedication" to the council, as well as her passion of educating student nurses.
"I always strive to improve my knowledge and nursing skills and have the drive and determination to help mould the profession moving forward," she said. "I have been privileged to work with a number of amazing nurses and I would like the profession to get the recognition it deserves. I believe it is moving in the right direction with lots of exciting changes on the way, but I cannot imagine a better time to get involved with the profession's future."
Another challenge she's ready for, says Samantha, is the role of RVNs within practice.
"As the qualification and further qualifications increase in skill level, it would be rewarding to see this acknowledged with further delegation to RVNs," she said.
Hustings highlights
Samantha said she is standing for VN council because, "like a lot of people", she was not sure "what the council did" and "wanted to play a more active role in the decision-making process of the profession I feel passionately and strongly about".
As a teacher, it was all about education in Samantha's video.
"I think our pre-registration education possibly needs reviewing," she said. "Training placements are scarce and quite hard to find, and this is something we need to work on with employers and course providers to improve for nurses who want to train in the future. On post-registration education… I think RVNs really need to see the value of CPD and I think it should be something that should be undertaken and enjoyed and something we should be able to use in the future."