LUCIE GOODWIN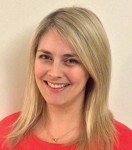 BVetMed, DipACVIM, MRCVS
Axiom Veterinary Laboratories, The Manor House, Brunel Road, Newton Abbot, Devon TQ12 4PB.
T 01626 355655
M 07834 784385
PROPOSERS: Katherine Hall, Hayley Mitchell
I graduated from the RVC in 2004 and spent the following two years working in a busy small animal hospital in Bristol. Having been firmly bitten by the medicine bug, I returned to the RVC in 2006 to undertake an internship and, subsequently, a residency in small animal medicine.
Following completion of my residency, I returned to the west country to work for the University of Bristol and Langford Veterinary Services as a teaching fellow and internal medicine clinician. I worked at Langford for a very enjoyable two-and-a-half years, before taking a short career break to help to establish the charity Brighter Bristol.
Since qualifying, I have also had experience of working in the veterinary charity sector and private referral hospitals, both in the UK and US. In my current position as an internal medicine consultant for Axiom Veterinary Laboratories, I am able to combine my enjoyment of veterinary internal medicine with a role that allows me to offer support to practitioners with their cases.
Outside of work, I love to travel and enjoy being creative. I also continue to volunteer for a number of charities in the Bristol area.
Manifesto
Like all vets, I have worked hard to become a member of the RCVS and am incredibly proud to be so. With ongoing challenges facing us, these really are exciting times for our profession and, as members, we should be engaged with our college to help create and shape our preferred future.
Having worked in a variety of clinical and academic settings, it is of no doubt to me a happy, healthy vet makes a good vet. As a role that has significant emotional and physical demands, it is no wonder a recent survey of BVA members reported reducing stress was the single highest priority for many. I believe there needs to be a culture change within the profession to support mental health and well-being, and the launch of the RCVS Mind Matters Initiative must be applauded as there is much work to be done to provide support to our members.
Veterinary education needs to meet the demands of the modern profession and it is essential the college reflects and promotes all aspects of veterinary work. It is alarming half of the vets surveyed who graduated within the last eight years reported their careers had not matched their expectations (reference: Vet Futures). Action must be taken to ensure we meet their aspirations and do not lose the skills of these highly qualified individuals.
I am passionate about the advancement of knowledge within veterinary science, particularly making use of evidence-based medicine and clinical governance. With a number of groups promoting these in practice, there is great potential for input from all areas of the profession.
If elected, I promise to contribute an enthusiastic and progressive voice to council and I would consider it a privilege to serve the veterinary community in this way.