CHERYL SCUDAMORE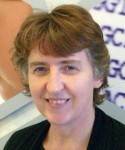 BVSc, PhD, FHEA, FRCPath, FRCVS
Mary Lyon Centre, MRC Harwell, Harwell Campus, Didcot OX11 0RD.
T 01235 841017
M 07714 484522
PROPOSERS: Nicky Paull, Susan Rhind
I graduated from the University of Liverpool in 1988 and completed a PhD at the Rowett Research Institute in Aberdeen. I continued my research interests and pathology training at the University of Edinburgh's Royal (Dick) School of Veterinary Studies, becoming a senior lecturer in veterinary pathology.
Pursuing an interest in human health research, I moved to the pharmaceutical industry in 2001 to work as a pathologist in the safety assessment of new medicines and managing a large technical team. While in industry, I maintained strong academic links, with particular interests in transferring technical skills between industry and academia, and encouraging vets to explore alternative career options.
In recognition of these interests, I was awarded an Medical Research Council (MRC) skills gap grant, moving back to the RVC in 2009 and on to my current role as pathologist at MRC Harwell in 2012. I am an RCVS recognised specialist in veterinary pathology and hold visiting chairs at RVC and the University of Surrey.
I have experience of serving on and chairing professional committees. I was part of the stakeholder group for the Vet Futures project and chair the Royal College of Pathologists' specialty advisory committee for veterinary pathology.
Manifesto
The profession is undergoing modernisation and facing challenges that require new ideas to resolve. Key to development and innovation in any profession is the cultivation of diversity. Diversity includes the individuals within the profession, working practices and career pathways.
Increasing diversity means, firstly, looking at our student intake, working with schools and aiming to attract a better balance of applicants that reflect our society today and will make resilient vets.
A veterinary education provides a great starting point for a variety of potential career pathways. The Vet Futures project has shown the RCVS and the BVA recognise different career options are important for individuals and the professions. We need to build on this project to ensure graduates are prepared for different roles, practice and non-practice career paths are equally valued, career paths are signposted and people are supported throughout development in their chosen career.
Mental health is another pressing issue for our profession and ensuring a satisfying career choice, with manageable levels of stress, are essentials for good mental health. We need to develop career pathways within the profession that offer progression and working practices that accept a good work-life balance is essential, not just desirable. We need to find ways to support vets through their early years and as they develop greater responsibilities later in their career.
Diversity in the profession means having a range of resilient veterinary graduates able proactively to engage with a range of different career options and to adapt to changes in the external environment. Having worked in the university, research institutes and pharmaceutical industry as a lecturer, mentor, careers advisor, researcher and manager, I believe I have a range of skills and experience to contribute to the debate in these crucial areas.