The September 2013 issue of VN Times has a brilliant article by Hayley Walters. Please, please read it!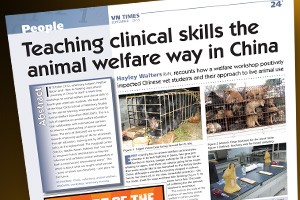 The article, entitled "Teaching clinical skills the animal welfare way in China", is available to read and download here (You will need to be registered with Vetsonline to access it, but it's free to sign up, and the process only takes about 90 seconds).
We carry out minor miracles for our pets and clients on an everyday basis  – whether by imparting information that helps a client's decision, rehabilitating their beloved pets, or by carrying out our usual duties that ensure a practice can function.
For all of the above I am proud to stand beside my fellow VNs and say I am one of you.
Still, I read Hayley's article and had a lump in my throat. It recounts how she and vet Heather Bacon taught a week-long welfare workshop at Nanjing Agricultural University and how it positively impacted Chinese vet students and their approach to live animal use. What an amazing journey for both of them.
I think we are all aware that welfare standards in animal and veterinary care differ in other countries. This article highlights where these standards are coming from and how institutional cultures can influence students, even when they may doubt the practices.