A baby gorilla was found being illegally used as a tourist attraction in Equatorial Guinea.
Conservationists from the Zoological Society of London (ZSL) have been working with the government of Equatorial Guinea to help a confiscated baby gorilla.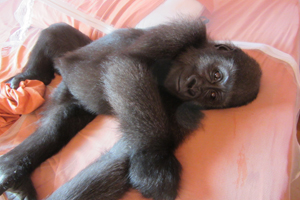 Afangui is a two-year-old female who was orphaned by poachers and found being used illegally as a tourist attraction.
The possession, hunting, sale and consumption of all primate species in Equatorial Guinea have been illegal since 2007, but, until recently, the law has not been properly enforced.
ZSL field conservationist Juliet Wright has been working closely with the Equatorial Guinea government to prevent further wild animals from suffering the same fate.
She said: "The oil boom in Equatorial Guinea has resulted in an influx of expatriate workers who are creating a demand for infant primates as pets.
"To obtain a baby gorilla, the mother and the members of the group are killed with the rest taken as bush meat. We wanted to make an example of this case and dissuade others from buying infant apes."
Following the publicity surrounding Afangui, the government has launched an awareness campaign with ministry officials distributing leaflets about the law and destroying seized primate carcasses being sold as bush meat.
ZSL conservation programme manager, Dr Noelle Kumpel said: "The government is to be congratulated in taking such a strong stand to implement the law and we hope that efforts to raise awareness of and enforce conservation legislation will continue.
"The western lowland gorilla is a critically endangered species and populations in Equatorial Guinea are currently under severe pressure from hunting and habitat loss."