Eight week old lynx triplets make their first public appearance at Whipsnade Zoo.
A trio of lynx kittens have made their public debut at Whipsnade Zoo.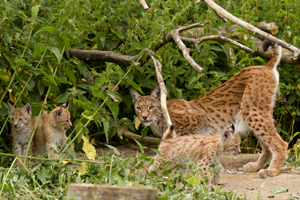 The eight-week-old triplets, Ruby, Amber and Opal, spent their first few weeks inside with mum, Maja, before taking their first tentative steps outside this week.
Now they are big enough to venture out on their own, the playful kittens are getting bolder by the day and are often spotted perched on tree trunks, play fighting in the grass and snoozing on logs.
Zookeeper Cliff Tack said: "All three kittens are doing fantastically well. Mum kept them well hidden in their den to begin with, but they're now growing in confidence and becoming a lot more adventurous, especially with the warm weather encouraging them out to play."
The all-girl trio, who are mum Maja and dad Timo's third litter, are a welcome addition to the European StudBook breeding programme for lynx.
They are already showing off their distinctive pointed-ears, and are just beginning to develop spotted-markings on their coats, which will continue to appear as they get older.
Known as a crepuscular species, European lynx are most active at dawn and dusk. The kittens are already showing signs of this behaviour, with keepers spotting the cheeky trio at their most playful at the beginning and end of the day.