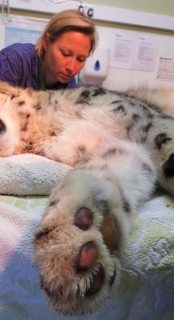 The prospect of conducting a health check on a snow leopard could send a shiver down the spine of some, but not the veterinary team at Marwell Zoo in Hampshire.
The young snow leopards, Indeever and Irina, were taken to the surgery so the Marwell team could check their weight, paws, claws, eyes and general body condition.
Endangered
The leopards are the zoo's breeding pair and in the past have successfully bred cubs together as part of the European endangered species breeding programme.
Veterinary dentist Cedric Tutt also visited the zoo to ensure the snow leopards teeth were all in good condition.
Healthy
One animal received a dental filling to avoid discomfort, but otherwise both animals were healthy and in good condition.
The zoo has a veterinary surgery and two full-time vets in residence as well as a veterinary nurse.