Paignton Zoo has moved one crocodilian out and another one in as part of a breeding programme with a German zoo.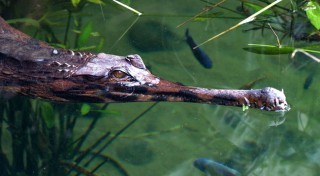 The false gharials (Tomistoma schlegelii) were moved in a straight swap with Leipzig Zoo. Paignton Zoo's 10-year old male, Pinocho, was swapped with Leipzig's 11-year-old female, Lima.
Breeding hopes
The move was requested by the coordinator of the European Stud Book, which contains a record of all births, matches and deaths for the species in top zoos across the continent. It is hoped Pinocho will form a breeding group with animals at Leipzig, while Paignton aims to form a breeding group of its own.
The false gharial – a native of Malaysia, Sarawak, and Indonesia – is classed as "vulnerable" by the International Union for Conservation of Nature, with an estimated population of fewer than 2,500 mature individuals.
There are only 30 false gharials in Europe, seven of which reside in the UK: three at Paignton, two at Chester Zoo and two at Crocodiles of the World in Oxfordshire.